In August 2018, in conjunction with her taking home the BMI Icon award, Janet Jackson issued the single "Made For Now" featuring reggaeton artist Daddy Yankee. This was preceded by an appearance on The Tonight Show Starring Jimmy Fallon, her first performance on late-night television in 14 years.
"Made For Now," a thoughtful blend of R&B and Afrobeats, was produced by Harmony Samuels. It was Jackson's first song since her 2015 album, Unbreakable, which debuted at the top of the Billboard 200 and featured the hit single "No Sleep" featuring J. Cole.
Jackson told iHeartRadio that "Made For Now" was the lead single from what she described as a "little project" that she had scheduled to release that fall. Samuels also hinted at the compact EP.
"I worked on most of the EP. Each song has a different feel. Each song has a different style. She bodies it! She does her thing," Samuels told Rated R&B in a 2018 interview.
"Made For Now" eventually netted Jackson a No. 1 hit on Billboard's Dance Club Songs, making it her 20th chart-topper.
Jackson's recorded activity in the subsequent years has involved commemoratory material, as heard on the Control and Rhythm Nation 1814 remix compilations in 2019 and the 25th-anniversary edition of The Velvet Rope in 2022.
While Jackson hyped her hugely anticipated album, Black Diamond, in 2020, she hasn't said much about new music in a while. But Samuels has confirmed that he and Jackson have been working together on new music.
"Working with Janet Jackson right now. It's one of the most amazing things I've experienced just 'cause she's so elegant and such a sweetheart," Samuels exclusively tells Rated R&B. "[Sometimes] when you meet people on and off stage, they're two different people. She's just as sweet offstage as she is onstage. A beautiful-hearted person."
Samuels has had downtime from studio time with Jackson, but now he is pumped for what's to come following her headlining Together Again Tour.
"She's on tour right now [and] we're still working. One thing that happens when you work with icons such as herself is you gotta be patient because they know when they're ready," Samuels explains.
"They know the timing of when they wanna do what they wanna do, and everybody's got to be engaged to go. So I've been sitting like a rocket launcher for two years, like, 'I'm ready to go. Ready?' But when she goes, it's gonna be a beautiful experience. [She's] an amazing woman [and] I'm proud and honored to work with such an icon. We don't have as many of those left, so for me, it's a blessing."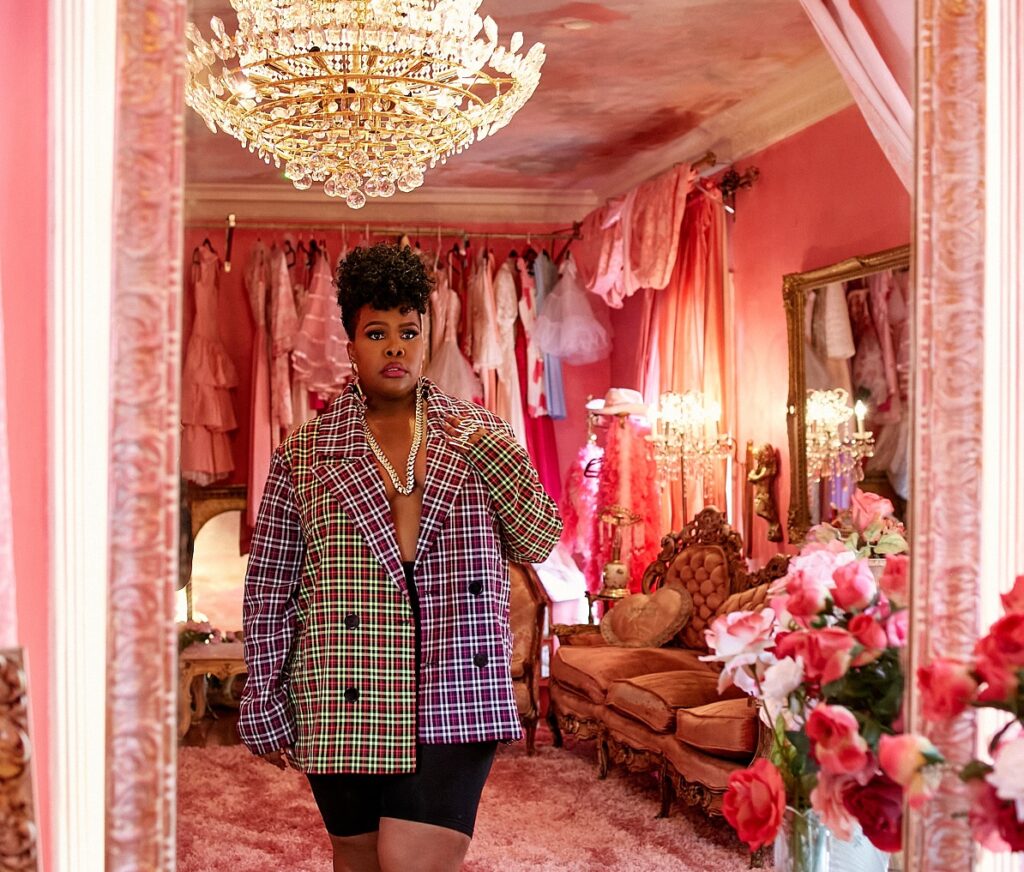 Asked who else he is creating music with now, Samuels says he also has been in the lab with Amber Riley and Susan Carol. Using the stage RILEY, the former singer/actress released her self-titled EP in 2020. Samuels feels her next album will show her in a different light.
"Everyone knows Amber can sing her butt off, but this album shows that she's a true artist, and some elements of [Fantasia's] Side Effects of You are in this project I'm working with Amber. I'm super excited," affirms Samuels.
As far as Carol, who joined PJ Morton's latest track, "Good Morning," Samuels suggests what they are cooking up is giving him the same goosebumps he felt when he produced Fantasia's fourth album, Side Effects of You, which celebrated its 10th anniversary in April.
"It's weird that a lot of what I felt when I worked on Side Effects of You is what I'm feeling working on Susan Carol's album. [She] is an incredible soulstress [with] a voice like no other. If Jazmine Sullivan and Amy Winehouse had a baby, you'd get Susan Carol."
He adds, "She's making me do things — and I say making me do things in a sense — where she's not asking me, but she's inspiring things musically for me that I had to stand back and say 'Really?' She's an incredible artist, and I don't think everybody's ready for what she's about to do. No one has ever heard me like this before, and I say that with all respect because I've worked with a lot of people and I've done a lot of stuff, but no one has ever heard me like this before. This is bold, this aggressive, and Susan is the blueprint for what I feel R&B is going to be in the next 5-10 years, for real."
Above all, Samuels remains focused on GoGo Morrow, the Philadelphia, Pennsylvania, native signed to his B.O.E. Records and Universal Canada in partnership with Interscope Records and Kenya Barris' Khalabo Music. In 2022, Morrow released her debut EP, Ready, which is getting new exposure, courtesy of "Don't Stop" going viral across social media.